Australia, a land of diverse landscapes, is no stranger to the devastating impact of fires. From bushfires to urban blazes, the need for reliable firefighting equipment is paramount. Enter Fire Hose & Fittings Australia, a brand that has become synonymous with safety and dependability. In this review, we'll delve deep into the world of fire hoses, exploring the differences between hose types and how they play a pivotal role in combating fires. We'll also shed light on the unique offerings of Fire Hose & Fittings Australia, ensuring you're well-informed about this essential equipment.
Introduction: The Backbone of Firefighting
Firefighting is not just about water; it's about delivering it effectively and safely. The hose and its fittings play a crucial role in this process. Just as a soldier relies on their weapon, a firefighter's trust in their hose is unwavering. But not all hoses are created equal. The type of hose used can significantly influence the outcome of a firefighting operation.
Understanding the Different Hose Types
Woven Jacket Hose: Typically used in municipal fire departments, these hoses are designed for high-pressure applications. They're robust, durable, and can withstand the rigours of urban firefighting.
Rubber-lined Hose: Known for its flexibility, this hose type is ideal for navigating tight spaces and corners. It's also resistant to abrasion, making it a popular choice in many firefighting scenarios.
Forestry Hose: Specifically designed for bushfires, these hoses are lightweight and easy to transport. They're also resistant to punctures, ensuring they can handle the rough terrains of the Australian outback.
Fire Hose & Fittings Australia: A Cut Above the Rest
When it comes to quality and reliability, Fire Hose & Fittings Australia stands out. Their commitment to producing top-notch products is evident in every hose and fitting they manufacture. With a keen understanding of the unique challenges posed by the Australian environment, this brand ensures that their products are tailored to meet the demands of both urban and rural firefighting.
Ensuring Safety and Reliability
Safety is paramount when it comes to firefighting, and Fire Hose & Fittings Australia understands this. Every product undergoes rigorous testing to ensure it meets the highest standards. From the materials used to the manufacturing process, no stone is left unturned in their quest for excellence. This dedication to quality ensures that when you opt for Fire Hose & Fittings Australia, you're choosing a product that won't let you down.
Conclusion: A Trusted Ally in Firefighting
In the world of firefighting, reliability is everything. Fire Hose & Fittings Australia has proven time and again that their products are up to the task. Whether you're battling a raging bushfire or a house blaze, you can trust this brand to provide the tools you need to get the job done.
Pros and Cons
Pros:

High-quality materials ensure durability and longevity.
Products tailored for the unique challenges of the Australian environment.
Unwavering commitment to safety and reliability.

Cons:

May be priced higher than some competitors, but you're paying for unmatched quality.
Final Thoughts
Fire Hose & Fittings Australia has set the benchmark for quality and reliability in the firefighting industry. Their understanding of the unique challenges posed by the Australian environment, coupled with their commitment to excellence, makes them a trusted ally for firefighters across the country. If you're looking for equipment that won't let you down, Fire Hose & Fittings Australia should be your first port of call.
---
Water Master 6 Metre Starter Fire Hose Fittings and Kit (includes 4 metres of suction hose)
This fire hose kit with all the fittings is ideally suited to a small bushfire fighting unit mounted on a trailer or vehicle. Suitable for use in Australia. It provides you with the ability to deploy when the going gets challenging quickly. Furthermore, this fire hose is long enough to reach right around a vehicle. They allow the operator to dismount and blackout the fire edge while the driver safely moves the car.
You can place a suction hose and filter into the vehicle water tank or in a dam or other static water supply to refill the vehicle-mounted water tank.
Features:
Sturdy construction

1 x 6-metre delivery hose

1 x 3/4 " BSP coupling

A fire fighting nozzle capable of straight jet and fog pattern
1 x 4-metre suction hose for the inlet side of the pump

Filter connected to the suction fire hose
---
2″ Heavy Duty Bush Fire Discharge Hose Kit
Fire protection in remote areas is primarily a do-it-yourself project. With no road to our house, the small volunteer fire brigade couldn't come here to help, and with only a few neighbours, we'd have few options in the event of a fire. When it came to building a house in the bush on a tight budget, fire protection seem to take a low priority.
Specifications and features include the following:
Yellow Premium Hose Assembly 1″ BSP x 10 Metre 19mm (3/4″) Temperature range for hose diameter: -10°C to +60°C
The pressure rating of up to 205 PSI Maximum UV Stabilized and Chemical Resistant HD
wist Action Adjustable Brass Nozzle –
Fitted with Brass Hose Tail & Fire Fighting Nozzle Conforms to Australia Standard AS1221.
Heavy-Duty Suction Hose Assembly 2″ x 5m
---
1-1/2″ Heavy Duty Bush Fire Hose Kit
The Suction Hose
Consider a suction hose to be similar to a vacuum cleaner hose. Instead of dust and dirt, it draws water from lakes, rivers, wells, pools, and other bodies of water to transport to a fire.
The pump's capacity determines the hose diameter, and three standard sizes are commonly used: 75mm, 100mm, and 140mm. With this kit, you get 5 metres of 1-1/2″ (40mm) Suction hose
Hose for Delivery
When most people think of a fire hose, they envision a delivery hose. It's a hose that delivers pressurized water or another type of fire retardant to a fire. The delivery hose included here is a 19mm or 3/4″ rubber hose which is UV stabilized and chemical resistant. The hose, nozzle and fittings also conform to AS1221.
---
36 metres of Layflat firefighting hose with fittings and firefighting nozzle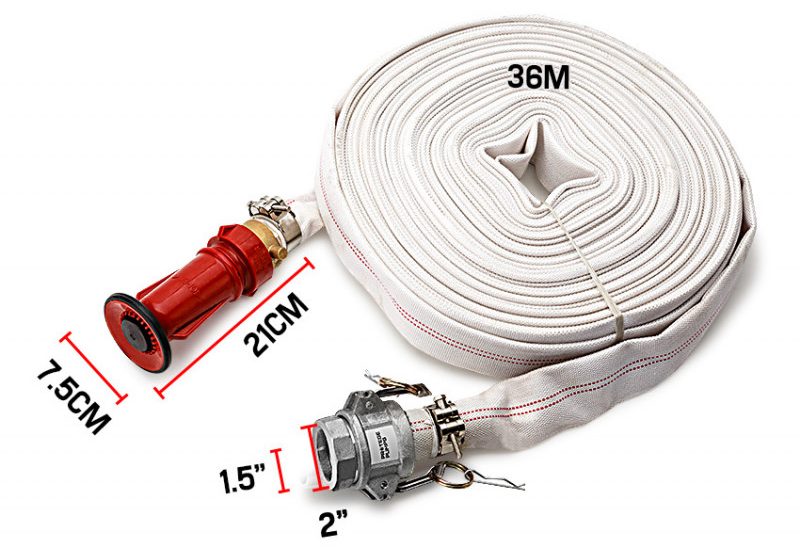 Fire services around Australia use lay flat hoses. It's straightforward to deploy. I.e. rolling the fire hose out while there is no water in it, and once it reaches its objective can then be charged. It is reducing the fatigue of the operator.
Being very tough and durable, it will perform well when charged to pressures above conventional rubber hose and has an operating pressure of 200bar (2000kpa). Most fire fighting pumps supply pressures around 700kpa at the nozzle for effective firefighting. Larger pressures/flows only make the fire hose more challenging to control.
This fire hose Kit also comes with several fittings and is ready to couple to a firefighting pump and start fighting a fire. The standard length for this type of fire hose usually is 30 metres, but this one gives you an extra 6 metres and is 36 metres long.
Even though the manufacturer indicates that you can place the hose in storage wet, this will reduce the life of the fire hose. All lay-flat hoses should be washed and dried after use.
Features of this fire hose:
Canvas weave material

36 metres in length

1 ½ inch brass BSP threaded coupling for the nozzle end

Quick deploy Aluminium Camlock fitting for the delivery side of the pump

Fire hose Weight is 7.4kg
---
Raptor 50mm x 20m Blue Lay Flat PVC Water Pump Hose with Fittings
The Raptor 50mm x 20m Blue Lay Flat PVC Water Pump Hose with Fittings is a versatile and durable solution for all your water pumping needs. This product is designed to efficiently transfer water from one location to another, making it ideal for various applications, including irrigation, construction, and emergency water supply. With its robust construction and convenient fittings, this hose ensures a hassle-free experience while providing reliable water flow.
Measuring 50mm in diameter and extending up to 20 meters in length, this lay-flat PVC hose offers ample reach and flexibility. Its blue color not only adds a touch of vibrancy but also enhances visibility, making it easy to manage and monitor water flow. The lay-flat design means the hose can be conveniently stored and transported when not in use, taking up minimal space.
The inclusion of fittings makes setup a breeze.
The hose comes with compatible connectors that ensure a secure and leak-free connection to your water pump or other equipment. This feature saves you time and effort, allowing you to get your water transfer tasks up and running quickly. Whether you're a professional contractor or a homeowner with occasional water pumping needs, the Raptor 50mm x 20m Blue Lay Flat PVC Water Pump Hose with Fittings is a dependable choice that promises durability and performance.
In summary, the Raptor 50mm x 20m Blue Lay Flat PVC Water Pump Hose with Fittings is a practical and efficient solution for water transfer tasks. Its generous length, durable PVC construction, and easy-to-use fittings make it suitable for a wide range of applications. Whether you need to irrigate your garden, support a construction project, or prepare for emergency water supply, this hose ensures that water flows smoothly and reliably, making it a valuable addition to your equipment arsenal.
---
Raptor 50mm x 5 metre PVC fire suction hose

Good quality Suction fire hose is essential for every fire fighting pump in Australia. Inferior quality hoses tend to be stiff and very hard to handle, whereas this suction hose is flexible though tough and fit for purpose.
Whether you're connecting a vehicle-mounted water tank to a firefighting pump or setting up the pump with sufficient suction fire hose to place in a dam or other static water source, this suction hose will help you achieve your goal simply and effectively.
Features:
Heavy-duty grey spiral PVC fire suction hose

50mm diameter

5 metres long
---
Choosing the Right Firefighting Hose for Bushfires: A Critical Decision
When facing the threat of bushfires, one of the most crucial decisions you'll make is selecting the right firefighting equipment. Among the most essential tools is the firefighting hose, which plays a pivotal role in controlling and extinguishing fires. However, not all hoses are created equal, and selecting the most suitable one for bushfire conditions requires careful consideration. In this article, we'll guide you through the process of choosing the best firefighting hose to ensure your safety and effectiveness in battling bushfires.
Understanding the Types of Firefighting Hoses
Firefighting hoses come in various types, and each is designed for specific purposes. In the context of bushfires, two primary types are commonly used: lay-flat hoses and rubber-covered hoses. Lay-flat hoses are lightweight and easy to transport, making them an excellent choice for rapid deployment during emergencies. However, they may not be as durable as rubber-covered hoses and are more prone to abrasion damage. On the other hand, rubber-covered hoses are robust and built to withstand rough terrain and harsh conditions, making them suitable for more extended firefighting operations in bushfire-prone areas. Understanding the differences between these hose types is the first step in making an informed decision.
Consider Hose Size and Length
The size and length of your firefighting hose are critical factors to consider. For bushfire scenarios, a hose with a diameter of 38mm (1.5 inches) or 50mm (2 inches) is typically recommended. These sizes strike a balance between delivering an adequate amount of water and maintaining manageable weight and flexibility. Regarding length, longer hoses allow for greater reach, but they can also be heavier and more challenging to handle. It's essential to assess the specific needs of your property or area when determining the ideal hose length. A balance must be struck between having enough hose to cover your property effectively and ensuring it's manageable for your firefighting team.
Evaluating Hose Material and Construction
The material and construction of the hose significantly impact its performance and durability during a bushfire. Look for hoses made from high-quality materials, such as synthetic rubber or a combination of synthetic and natural rubber. These materials offer excellent resistance to heat and abrasion. Additionally, consider hoses with reinforced layers for added strength and durability. Double-jacketed hoses, for instance, feature two layers of fabric for increased toughness. In bushfire-prone regions, where the hose may encounter sharp objects or intense heat, investing in a robust, well-constructed hose can be a lifesaver.
Assessing Couplings and Fittings
The couplings and fittings of your firefighting hose are the crucial links that connect it to water sources, pumps, and nozzles. It's essential to ensure compatibility with your firefighting equipment and water sources. Storz couplings, for example, are popular for their quick and secure connection, while camlock fittings provide ease of use. Make sure that the fittings are made of durable materials like aluminum or brass, which can withstand high temperatures and resist corrosion. Regularly inspect and maintain these components to ensure they remain in good working condition, as their reliability is paramount during firefighting operations.
Regular Maintenance and Training
Once you've selected the right firefighting hose for bushfire protection, it's vital to establish a maintenance routine and provide proper training to your firefighting team. Regular inspections, cleaning, and testing of the hose should be part of your preparedness plan. Additionally, ensure that all team members are trained in deploying, using, and maintaining the hose effectively. Adequate preparation and ongoing maintenance are key to ensuring your firefighting hose performs optimally when it matters most – during a bushfire emergency.
Conclusion
Selecting the best firefighting hose for bushfire protection is a critical decision that can significantly impact your ability to combat wildfires effectively and safeguard your property. Consider factors such as hose type, size, material, and couplings carefully. Prioritize durability, ease of use, and compatibility with your firefighting equipment. Regular maintenance and training are equally essential to ensure that your hose remains in top condition and that your firefighting team is well-prepared for the challenges of bushfire season. By making a well-informed choice and investing in quality equipment, you can enhance your ability to protect your property and loved ones in the face of bushfire threats.
Firefighting can be a dangerous activity, and one should be well equipped and trained when taking on such a task. Even though we would always suggest formal training, you can get some great firefighting and fire hose tips from Youtube.