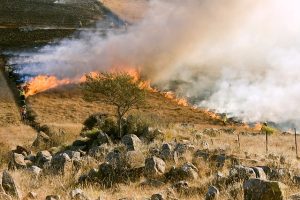 In Australia, farm fire safety is a top priority for the local Fire Brigade and every rural community, and brigades work with farmers to make our communities safer to help minimise and respond to the threat of fires. The Fire brigade generally maintains strong cooperation with the Farmers. This page highlights various efforts underway to support farmers and ensure we are working together before, during, and after fires, in collaboration with farmers from around Australia.
Plans for Farm Fires
The majority of fire-damaged properties never fully recover. Planning is essential when millions of dollars in losses and destruction are at stake. Often firefighters collaborate with farmers to develop the Farm Fire Plan, which will assist you in managing fire risks on your property.
It's easier than you think to prepare for a bushfire. Just 5 minutes of planning ahead of time for what you'll do in the event of fire might save your life, your family's life, and your livelihood.
Now is the time to get your Farm Fire Plan.
FOUR EASY STEPS
To prepare for a bushfire, follow these four basic steps. Here are some helpful planning tools for each step:
GET YOUR PROPERTY IN ORDER AND TAKE ACTION

WHAT ARE YOUR PLANS IF THERE IS A FIRE?

BE AWARE OF THE CIRCUMSTANCES

REMAIN INFORMED ABOUT THE BUSH FIRE PHONE NUMBERS, WEBSITES, AND APPLICATIONS FOR SMARTPHONE
Farm Firefighting Units
Farmers are helping the fire brigade develop standards for farm fire units working on firegrounds. Its goal is to ensure that we all work together to safeguard our communities and keep each other safe. To support each other safe, follow these simple steps: provide you and your equipment with prioritising preparation in advance of the worst fire conditions.
Officers in charge of rural liaison
Rural Liaison Officers are on the ground with locals during significant fire incidents. Communicating with local farmers and incident controllers to better understand what's essential to people and produce better outcomes for everyone. Rural Liaison Officers are usually senior members of the fire brigade and farmers.
If you are a farmer and never had a visit from a local firefighter it should be part of your next year's preparation for farm fire safety.
Download a guide to farm fire safety here.