iCheck Tyre Pressure Monitoring System – 5 Sensor Kit:
Imagine being out on the open road, heading towards an exciting destination with your caravan in tow. Suddenly, the unsettling realization hits you: is my caravan's tyre pressure optimal? Such a worry can take away the joy of a journey. Fortunately, with the rapid advancements in technology, there's a solution that every caravan enthusiast should consider: Tyre pressure monitors for caravans. Enter the "iCheck Tyre Pressure Monitoring System – 5 Sensor Kit", a game-changer in the realm of caravan safety and maintenance.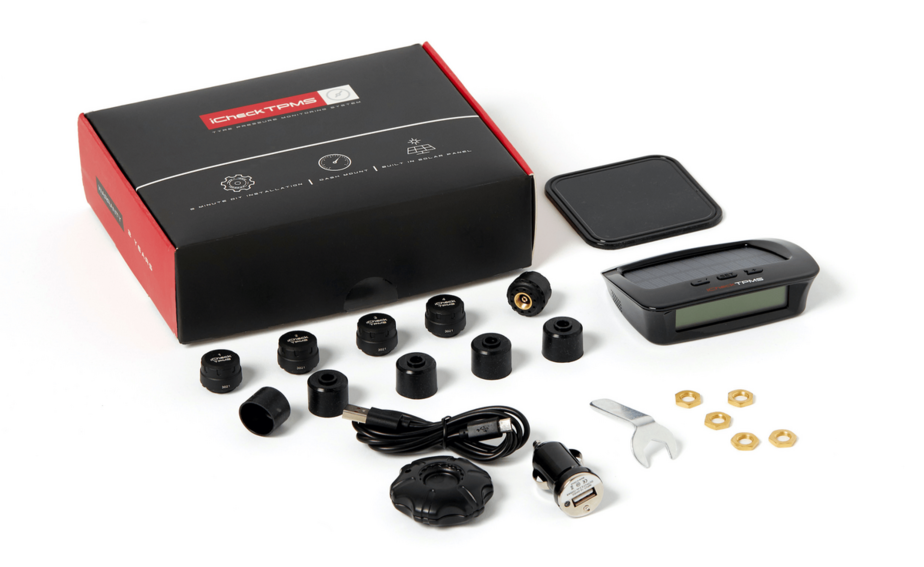 With a market saturated with countless products claiming to offer the best performance, it can be quite daunting to make an informed choice. However, we've taken a thorough look at the iCheck TPMS, and spoiler alert: it's outstanding! If you're seeking a reliable and efficient way to monitor your caravan's tyre pressure, this might just be your holy grail.
In this review, we will delve deep into the features, pros, and operational efficiency of this tyre pressure monitoring system. By the end, you'll see why it stands out in the competitive world of tyre pressure monitors for caravans.
Product Features and Highlights
SKU: IC-001
Barcode #: OEBC560258
Brand: iCheckTPMS
Shipping Weight: 1.5000kg
Detailed Insights into the iCheck TPMS
Efficiency and Performance
Undoubtedly, when it comes to tyre pressure monitors for caravans, the iCheck system ranks at the top in terms of efficiency and performance. Designed with precision, this kit leverages cutting-edge technology to ensure accurate and timely pressure readings. The five sensors integrated into the system are not just mere additions; they're critical components that capture even the slightest deviations in pressure, making your caravan journeys safer and more efficient.
One aspect that sets the iCheck system apart is its real-time monitoring capability. No more periodic manual checks or surprise tyre blowouts. The system actively keeps an eye on the pressure levels and communicates the data directly to the user. Additionally, it boasts of the following features:
High sensitivity sensors for accurate readings.
Wide operational temperature range, making it suitable for diverse climates.
Extended battery life to ensure uninterrupted performance.
Easy Installation
In the world of tyre pressure monitors for caravans, the iCheck TPMS stands out not only for its impeccable performance but also for its hassle-free installation process. While some systems require professional assistance or a deep dive into complex manuals, the iCheck is refreshingly straightforward. From unboxing to getting it up and running, the process is designed to be user-centric.
For many caravan owners, the mere thought of integrating a new gadget can be daunting. However, with the iCheck system, you're in for a pleasant surprise. The sensors easily attach to the tyre valves, and the main unit syncs seamlessly, offering a plug-and-play experience. Here's a brief glimpse of the installation benefits:
Step-by-step guided setup process.
No need for specialized tools or equipment.
Visual and auditory indicators to confirm successful installation.
User Interface: The Digital Frontier of Tyre Monitoring
Intuitive and Sleek Design
The first thing you'll notice about the iCheck system's user interface is its intuitive and sleek design. Many tyre pressure monitors for caravans often overlook the importance of an easy-to-navigate interface, but not iCheck. Every element, from the display icons to the notification alerts, is designed to offer clarity. Users can seamlessly switch between different data readings, ensuring that crucial information about your caravan's tyres is always just a glance away.
Adaptable and Informative Alerts
Another standout feature is the system's adaptable and informative alerts. Instead of bombarding the user with continuous notifications, the iCheck TPMS smartly categorizes alerts based on urgency. For instance, a sudden drop in tyre pressure would trigger an immediate alarm, whereas minor fluctuations might result in a gentler notification. This ensures that you're not overwhelmed with information but are still informed promptly of any critical changes.
Clear icons for easy data interpretation
Real-time alerts based on pressure changes
Customizable settings to cater to individual preferences
Why Choose the iCheck Tyre Pressure Monitoring System?
A Brand Synonymous with Quality
Delving deeper into the world of tyre pressure monitors for caravans, one will find a plethora of options. However, the name "iCheckTPMS" consistently stands out. Known for its unwavering commitment to quality and cutting-edge technology, the brand has become synonymous with reliability. When you invest in the iCheck system, you're not just purchasing a product; you're aligning yourself with a legacy of excellence.
Comprehensive Coverage with Five Sensors
The inclusion of five sensors in this kit is not just a number but a testament to its comprehensive coverage. While some systems might only focus on the primary tyres, the iCheck ensures every nook and corner is monitored. From your caravan's main wheels to any additional ones you might have, this system ensures that no tyre goes unchecked. It's this attention to detail that sets the iCheck apart in the vast market of tyre pressure monitors for caravans.
The Verdict: A Must-Have for Every Caravan Enthusiast
Setting the Gold Standard in Safety
Every caravan owner knows the significance of maintaining optimal tyre pressure; it's not just about longevity but also about safety. The iCheck Tyre Pressure Monitoring System takes these concerns and not only addresses them but elevates the safety standards to new heights. With the latest technology in hand, this kit becomes an indispensable part of your caravan toolkit. It's not an exaggeration to say that, among the plethora of tyre pressure monitors for caravans, the iCheck system sets a gold standard. And while safety is paramount, the fact that it contributes to improved fuel efficiency and enhanced tyre lifespan makes it even more compelling.
An Investment Worth Making
Caravaning is more than just a mode of travel; it's a lifestyle. Every accessory, every gadget, and every tool you add to your caravan setup should enhance your experience. The iCheck system does precisely that. It isn't just another tool; it's a companion that ensures you can focus on the journey rather than constantly worrying about tyre pressures. When you factor in the ease of use, real-time data, and the brand's impeccable reputation, it becomes clear that this is an investment worth every penny. Furthermore, considering the financial implications of potential tyre damage or replacement:
Cost of new tyres
Risks associated with tyre blowouts
Increased fuel consumption due to sub-optimal pressure
It's evident that the iCheck system can save both money and potential heartache in the long run.
For those still on the fence about tyre pressure monitors for caravans, the benefits are clear. With the ever-growing emphasis on safety and cost efficiency, products like the iCheck Tyre Pressure Monitoring System aren't just accessories; they're necessities.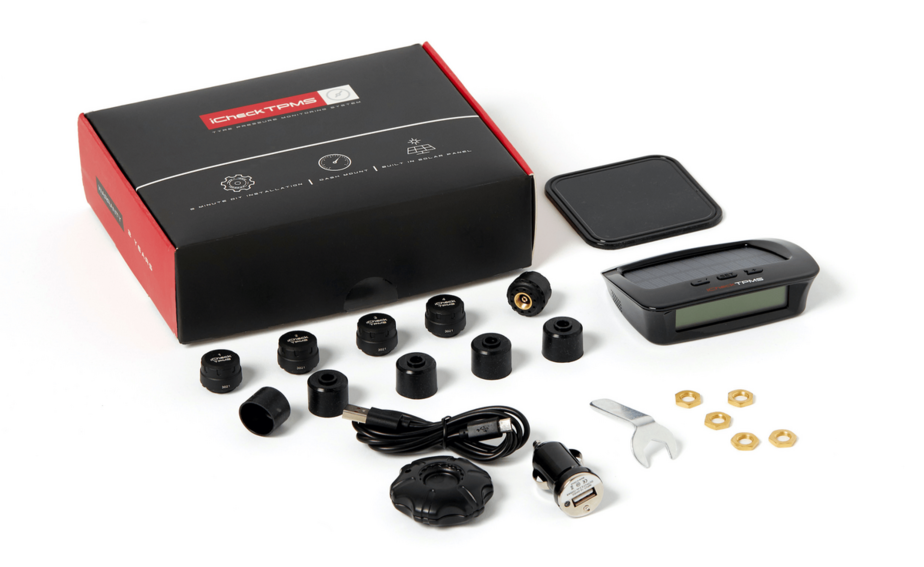 Frequently Asked Questions about iCheck Tyre Pressure Monitoring System
1. How long do the sensors last and are they easy to replace?
The iCheck sensors, specifically designed for tyre pressure monitors for caravans, boast of a remarkable lifespan and can efficiently serve for years, given proper care. These high-quality sensors ensure that you're not frequently replacing them, thus offering both value and peace of mind. When the time does come for a replacement, the process is straightforward, ensuring minimal downtime.
Furthermore, for those who may have concerns, iCheck offers excellent customer support, assisting in any sensor-related queries and ensuring that your caravan's tyre pressure monitoring is always up to par.
2. Can I use this system for other types of vehicles besides caravans?
The iCheck Tyre Pressure Monitoring System, while primarily marketed for its excellence as a tyre pressure monitor for caravans, showcases versatility. This adaptability ensures that it's not just limited to caravans. Whether you own an SUV, a truck, or even a motorhome, this system can be integrated seamlessly. The primary goal is to offer drivers across various vehicle types the assurance that their tyre pressure is within safe limits.
For a clearer understanding, here's a quick list of vehicles compatible with the iCheck system:
Caravans
Motorhomes
Trucks
SUVs
Sedans
3. What makes the iCheck system weatherproof and reliable?
Understanding the dynamic nature of weather conditions, especially during long journeys, is crucial for tyre pressure monitors for caravans. The iCheck TPMS has been engineered with materials that can resist various weather adversities. Whether you're driving through a rainy downpour, a scorching sun, or chilly snowfall, the system's resilience ensures uninterrupted performance.
This weatherproofing not only adds to the system's reliability but also ensures longevity. With iCheck, you're investing in a product that won't falter when faced with Mother Nature's unpredictability, ensuring that your caravan's tyre pressures are consistently monitored regardless of where your travels take you.