Keeping Safe and The Need to Learn First Aid – A Review from an Australian Paramedic
In the vast expanse of Australia, with its diverse landscapes and challenging environments, the importance of first aid cannot be stressed enough. As we dive into this insightful piece, crafted by an experienced Australian paramedic, we aim to shed light on the significance of being equipped with the right knowledge and tools. From the bustling streets of Sydney to the remote outback, emergencies can arise at any moment. Hence, owning and understanding a First Aid Kit in Australia is a vital asset for every household.
Introduction
Safety first! An adage that has been ingrained in our minds, yet how many of us truly understand the depth of its implications? The art of first aid isn't merely a set of actions, but a life-saving skill that holds immense significance, especially in the unpredictable terrains of Australia. This review seeks to not only educate but also inspire its readers to appreciate the gravity of knowing first aid and keeping a well-equipped First Aid Kit in Australia.
The Essence of First Aid
Firstly, let's take a moment to consider the sheer unpredictability of life. Accidents and medical emergencies can occur when least expected. Consequently, having knowledge of first aid becomes not just a preference but an essential skill. For Australians, this truth is all the more resonant. Given the country's diverse geography, one could find themselves face-to-face with challenges ranging from snake bites to heat strokes.
Furthermore, when it comes to first aid, time is of the essence. Responding swiftly and effectively to an injury can drastically change outcomes. The golden hour, as paramedics refer to it, is the crucial time frame where prompt medical intervention can lead to optimal results.
The First Aid Kit Australia – An Essential Companion
When discussing first aid, the conversation naturally leads to the importance of a well-stocked First Aid Kit. But what makes the First Aid Kit Australia truly special?
Adapted to the Environment: Tailored to address the unique challenges of the Australian terrain, this kit is a culmination of extensive research and experience from professionals.
Comprehensive Yet Compact: Despite its wide array of tools and medications, the kit is designed for easy portability and storage.
User-friendly: Every component of the First Aid Kit Australia is chosen with the end-user in mind. Be it the clear labels or the accompanying guide; it's made for those without medical backgrounds.

The Verdict from the Paramedic
Drawing from years of experience, our Australian paramedic could not emphasize enough on the indispensability of a good First Aid Kit in Australia. Whether it's the occasional scraped knee or more grave emergencies, being prepared is half the battle won. The kit, coupled with some basic first aid knowledge, can make all the difference.
Final Thoughts and Reflection
Australia, with its stunning beauty, also poses unique challenges. As inhabitants of this vast land, it's our responsibility to be prepared for every twist and turn. Learning first aid and ensuring that every home, car, and workplace is equipped with a First Aid Kit Australia is not just a safety measure, but a testament to our commitment to safeguarding ourselves and our loved ones.
In summary, the call to action is clear. Embrace the wisdom shared by our seasoned paramedic. Recognize the significance of first aid, and make the First Aid Kit Australia your constant companion. Your life or that of a loved one could depend on it.
---
Supex First Aid Kit: The Perfect Choice for Every Aussie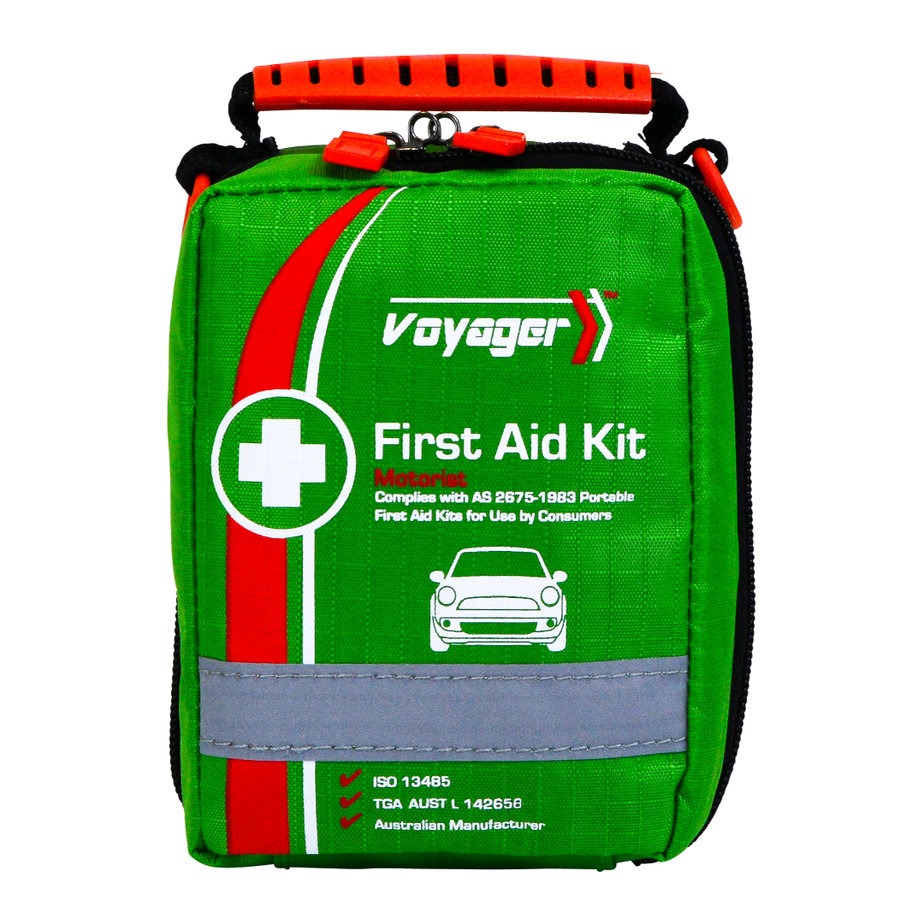 Australia, with its diverse environments and active lifestyle, demands a reliable and efficient first aid solution. Enter the Supex First Aid Kit: a comprehensive package that promises to be a staple in every Australian home, workplace, and vehicle. In this review, we'll delve deep into its contents, discuss its suitability for the Australian lifestyle, and explain why it should be your top choice for emergency medical supplies.
Every minute matters in an emergency, and having immediate access to the right tools can make all the difference. A dependable first aid kit is not just a box of plasters; it's peace of mind for you and your loved ones. And while the market is flooded with countless options, the Supex First Aid Kit stands out as the perfect companion for those living down under.
Unboxing the Supex First Aid Kit
The first thing you notice when you open the Supex First Aid Kit is how well-organized it is. Every item has its place, ensuring that you can quickly find what you need when seconds count. But let's break it down:
Contents of the Kit:
AEROSWAB Gauze Swabs: 7.5 cm x 7.5 cm – 3 pc
AEROWIPE Cleansing Wipe: 3 pc
AEROPLAST Plastic Plaster: 72×19 mm – 10 pc
AEROSHIELD Face Shield Disposable: 1 pc
AEROPORE Microporous Paper Tape: 2.5 cm x 5M – 1 Roll
AEROPAD Low Adherant Dressing: 10 cm x 10 cm – 2 pc
AEROWOUND Wound Dressing #14: 1 Roll
AEROFORM Conforming Bandage: 5 cm x 4M – 1 Roll
AEROFORM Conforming Bandage: 7.5 cm x 4M – 1 Roll
AEROBAND Triangular Bandage: 110 x 110 x 155 cm – 1 pc
AEROPINS Safety Pin: 3 pc
AEROINSTRUMENTS Scissor: 10 cm – 1 pc
AEROINSTRUMENTS Tweezer: 12 cm Plastic – 1 pc
AEROSUPPLIES Notebook & Pen: 1 pc
AEROWASH Eye Wash Ampoule: 15 ml – 1 pc
AEROBURN Burn Gel Sachet: 3g – 1 pc
AEROGLOVE Nitrile Examination Gloves: 1 Pair
AEROGUIDE First Aid Leaflet: 1 pc
Highlights & Features
The "First Aid Kit Australia" market is vast, but here's why the Supex First Aid Kit shines brighter:
1. Comprehensive Coverage:
From minor cuts and burns to more significant injuries, this kit has you covered. With items such as the AEROWOUND wound dressing and AEROBURN burn gel sachet, you're equipped to handle most common injuries.
2. Tailored for the Australian Environment:
The inclusion of the AEROWASH eye wash ampoule is a thoughtful addition, perfect for those dusty outback trips or coastal excursions where sand can be a nuisance.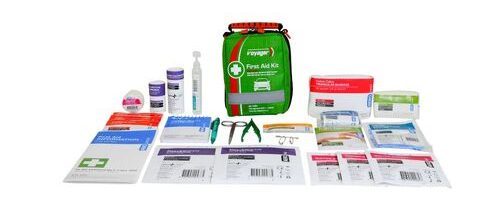 3. User-friendly:
The AEROGUIDE first aid leaflet ensures even the most novice user can provide effective first aid. Plus, the addition of a notebook and pen means you can keep a record of injuries or symptoms, which could be crucial if professional medical assistance is needed.
Final Thoughts
When it comes to selecting a first aid kit tailored to Australian needs, the Supex First Aid Kit is in a league of its own. Comprehensive, compact, and considerate of the Australian way of life, it offers an unrivaled blend of quality and utility. Whether you're trekking in the bush, enjoying a BBQ in the backyard, or driving through the vast outback, this kit ensures you're always prepared.
In conclusion, for peace of mind and preparedness, the Supex First Aid Kit is the first choice for every Aussie. Stay safe, stay prepared, and always have your Supex First Aid Kit at hand.
---
SURVIVAL Family First Aid KIT: The Ultimate Safety Companion for Every Australian Family:

For Australians who understand the unpredictable nature of life and the importance of being prepared, the search for the ideal first aid kit ends here. The SURVIVAL Family First Aid KIT emerges as a vital household asset, ensuring that every family member is well-equipped to handle emergencies. This review delves deep into what makes it a must-have for every Australian home, and why it might just be the best investment you make for your family's safety.
In the vast market of first aid kits, where every brand claims superiority, it's essential to distinguish genuine quality from mere advertising. The SURVIVAL Family First Aid KIT does just that by offering unparalleled features, each tailored to cater to the diverse needs of the Australian family. Whether you're at home, on a road trip, or enjoying the great outdoors, this kit serves as a beacon of security.
With a plethora of components meticulously chosen for real-life scenarios, the SURVIVAL Family First Aid KIT is not just another generic kit. It's a product born out of deep understanding and commitment to safeguarding lives. Let's delve into the details.
Highlights of the Kit
Ensuring that you're equipped for various emergencies is crucial. That's why the First Aid Kit Australia recommendation, such as the SURVIVAL Family First Aid KIT, comes packed with an extensive range of components. Notably:
Adhesive Dressings: With 50 sterile, individually wrapped adhesive dressings, small cuts and abrasions are quickly taken care of.
Wound Care: Featuring saline solutions, gauze swabs, and various non-adherent wound dressings, the kit ensures wounds remain clean and free from infection.
Emergency Essentials: The inclusion of an emergency blanket, CPR card, and a one-use-only ice pack means you're ready for critical situations.
Comprehensive Tools: Bandage shears, tweezers, and splinter probes come handy in various situations, ensuring you have the tools you need when you need them.
Instructional Assistance: A First Aid Booklet provides guidance, while a notepad and pencil let you jot down vital information.
Hygiene and Safety: The presence of nitrile gloves, safety pins, skin cleaning wipes, and more ensure that first aid can be administered safely and hygienically.

Distinguishing Features
While the comprehensive list of components is impressive, what sets the SURVIVAL Family First Aid KIT apart is the quality and thought behind each item. The hypoallergenic adhesive tape ensures sensitive skin isn't irritated, while the inclusion of a fever scan strip showcases the kit's thoroughness. Each component, from the rust-resistant tweezers to the heavy-duty SMART Bandage, reflects a commitment to quality and practicality.
Reliability for the Entire Family
This First Aid Kit Australia offering is more than just a collection of components. It's a promise of reliability. With components tailored for both everyday accidents and more serious emergencies, you can rest assured that your family's well-being is prioritized.
Final Thoughts
With the unpredictable nature of life, being prepared is not just wise—it's essential. The SURVIVAL Family First Aid KIT, with its vast range of components and the guarantee of quality, offers Australian families the peace of mind they deserve. Whether you're a seasoned first aid expert or someone looking for their first kit, this product ensures you're always prepared.
For those seeking a top-tier First Aid Kit Australia recommendation, the SURVIVAL Family First Aid KIT undoubtedly ranks among the best. A blend of comprehensive components, quality, and a genuine understanding of the needs of Australian families makes it a standout choice. In the world of first aid kits, it's a beacon of reliability and trustworthiness.
Stay safe, Australia!
---
Marine First Aid Kit Scale F: The Ultimate Lifesaver for Australian Waters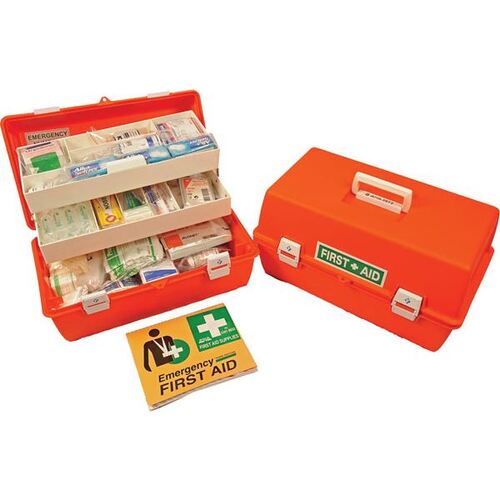 In Australia, the vast stretch of oceans and the popularity of marine activities demand safety precautions that are both robust and meticulous. The Marine First Aid Kit Scale F emerges as a quintessential solution for all marine adventurers. With the rising need to be prepared in the vast blue wilderness, this first aid kit is tailored for the specific demands of Australia's marine environment.
Spanning across various classes of survey – notably Class 1C – Unberthed, Class 1D – Berthed, Class 1E – Berthed, and Class 2C – Berthed – the kit is remarkably comprehensive. Designed as the Big Box Marine Kit, it's ideal for larger boats, especially those venturing into the ocean and outer reef areas. With Australia's diverse marine topography, having a kit that caters to both close coastal ventures and deep-sea expeditions is not just a luxury, but a necessity.
Today, we delve deep into the nuances of this Marine First Aid Kit, highlighting its features, what sets it apart, and why every Australian mariner should consider having it on board. For anyone cruising the Australian waters, this review will spotlight the importance of being prepared.
Key Highlights:
Optimized for Larger Boats: Specifically tailored as the Big Box Marine Kit for Larger Boats, it's the right fit for ocean and outer reef expeditions.
Sturdy Build: Features two extra deep trays fixed with stainless steel counter lever arms ensuring durability and longevity.
Comprehensive Medication: Comes equipped with eight medications as per F Scale, making it a holistic solution for varied medical emergencies.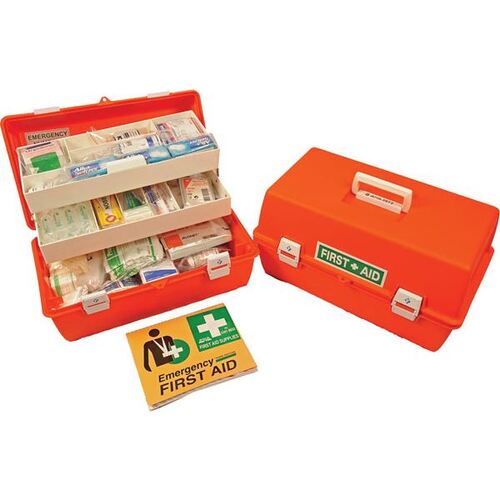 Delving Into The Contents
One of the standout aspects of the Marine First Aid Kit Scale F is its exhaustive list of contents. Ensuring you're equipped for a myriad of possible injuries and medical situations is essential, and this kit leaves no stone unturned.
The First Aid Kit Australia houses everything from conforming bandages of various sizes, crepe and heavy bandages, combined dressings, non-adherent dressings, burnaid dressings, wound dressings, to gauze swabs and more. There's also a meticulous inclusion of tools like scalpel, shears, tweezers, and splinter probes. Not to mention the vital resuscitation face shield and pocket mask, making it well-equipped for more severe emergencies.
Beyond the standard first aid tools, the kit includes vital medications – Paracetamol, Ibuprofen, Loperimide, Loratadine HCI, Hyoscine Hydrobromide, and more. There's also a CPR instruction chart and a First Aid Book A6, ensuring even those without professional medical training can provide crucial initial care.
The Verdict: Is it Worth it?
In the vast and unpredictable terrains of Australian waters, safety isn't just a priority—it's a mandate. The Marine First Aid Kit Scale F is more than just a box of medical supplies; it's a symbol of preparedness and an ode to the spirit of safe marine adventures. With its vast array of tools, medications, and aids, it stands as a testament to thoroughness and dedication to marine safety.
The positive reception of the First Aid Kit Australia is no surprise. Given its comprehensive list of contents tailored for various marine emergencies and the durability promised with its build, it's a worthy investment for anyone venturing into Australian waters. Be it a casual marine enthusiast or a seasoned sailor; this kit is a must-have onboard.
So, when you're setting sail next, remember that the vast ocean is as unpredictable as it is beautiful. Equip yourself with the Marine First Aid Kit Scale F, and navigate the seas with the assurance of safety!
Note:
While this review is thorough and detailed, always consult with marine safety experts when choosing a kit tailored to specific trips or boat types. Safety first!
---
Hulk 4×4 4wd Adventurer First Aid Kit: A Must-Have for Every Australian Explorer

In the vast and often unpredictable terrains of Australia, safety is of the utmost priority. As the saying goes, it's better to have it and not need it, than to need it and not have it. Enter the "Hulk 4×4 4wd Adventurer First Aid Kit". This little red wonder, encased in a soft durable case, is specifically designed keeping in mind the needs of the Australian adventurer. In this review, we will delve deep into why this First Aid Kit is becoming the top choice for outdoor enthusiasts across the continent.
One cannot stress enough the significance of a comprehensive first aid kit when navigating the rugged Australian landscapes. Accidents, as we know, can happen anywhere and at any time. And while we all pray never to be in a situation where we need to use a first aid kit, the Hulk 4×4 kit ensures that if we do, we're fully equipped.
With "First Aid Kit Australia" rapidly becoming a searched term, it's evident that Aussies understand the importance of staying prepared. The Hulk 4×4 stands out in this crowded market, not just for its exhaustive contents but also for its practicality and ease of use.

Kit Highlights & Contents
Let's delve into the main attractions of this first aid kit:
Comprehensive Coverage:


Adhesive strips & tapes

are the first line of defence against minor cuts and scrapes. This kit doesn't just offer a handful, but a whopping 50 adhesive plastic strips and a 5m long adhesive paper tape.

Protection Against Infections: With the included


Antiseptic Healaid Cream and Spray

, you can be sure to keep infections at bay.

Multiple Bandages & Dressings

: From conforming bandages to crepe medium support and non-adherent dressings, this kit ensures that all types of wounds are taken care of.

Be Ready for Anything: The


Emergency Thermal Blanket

and

Resuscitation Safe Face Shield

prepare you for extreme situations.

Eye Care Essentials

: Eye baths, pads, and a generous 500ml saline eye wash ensure your eyes remain protected against contaminants.

Tools for Every Need: Be it the


Fine Forceps

or the two types of scissors, you have a tool for every emergency.

Stay Informed: The


First Aid Booklet

and

Resuscitation Pocket Card

provide vital information when it's needed the most.

Sun Protection

: Never underestimate the Australian sun! The 125ml sunscreen ensures you stay protected.

… and so much more, including wound wipes, a magnifier, a hot/cold pack, and even a notebook with a pencil!

Why the Hulk 4×4 4wd Adventurer First Aid Kit?
Beyond the comprehensive list of contents, what truly makes this First Aid Kit stand out is its design and durability. Tailored specifically for the Australian adventurer, every item in the kit is of the highest quality, ensuring reliability when you need it most. Moreover, the soft, durable red case ensures the contents remain safe and sterile, regardless of where your adventures take you.
Final Thoughts
If you're on the lookout for a First Aid Kit in Australia, the Hulk 4×4 4wd Adventurer First Aid Kit is truly second to none. Its thoughtful design, extensive contents, and durable casing make it a must-have for every adventurer. Whether you're camping, hiking, or just embarking on a road trip, make sure this kit is by your side. After all, it's always better to be safe than sorry.
---