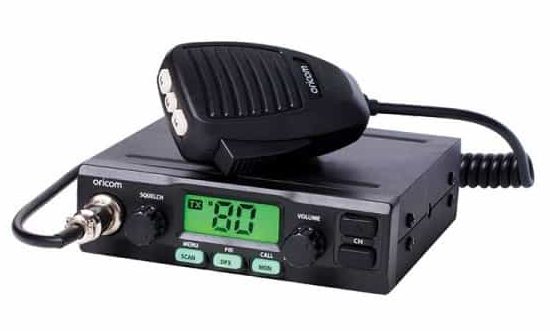 A Buyer's Guide for Two-Way Radio
The primary difference when using a two-way radio is that, unlike a telephone, only one person can speak at a time, and each person takes turns speaking by pressing a PTT (push to talk) button on their radio handset. A clear message can be delivered every time without interference or interruption due to this arrangement.
Moreover, because two-way radios do not require number selection, ringing, or answering, they can be used to communicate in real-time. More recently, digital technology has enabled new features to two-way radios, such as safety features such as an emergency alarm and lone worker alerting capability.
Best Sellers
Activation through the use of voice (VOX)
Firstly, VOX Disadvantages
Because VOX operates by listening for audio signals through an attached accessory, background noise that is close to the sound of a human voice will also cause it to activate. This means virtually anything can be used to activate the voice activation feature.
How to Make Use of VOX
The voice activation feature on most two-way radios is only accessible through an external VOX-capable earpiece or headset. Simply begin speaking, and the two-way radio will automatically begin transmitting as soon as you are connected to the network. When no audio comes through your earpiece or headset, the two-way radio automatically turns off the PTT function.
VOX is being activated.
Most business-grade licence-exempt two-way radios allow you to activate the voice activation feature by pressing buttons on the radio or simply plugging in an earpiece or headset that supports voice activation. On the other hand, some more complex two-way radios, such as our licenced ones, will necessitate some programming changes.
Which is better, VHF or UHF? That is the question.
The advantage of using VHF is that it has a longer wavelength and provides a more excellent range per watt of energy. The antennas are as high as possible, above all buildings and objects, and achieve a nearly perfect line of sight. However, because VHF cannot penetrate solid objects very well, there must be as few obstructions as possible in the way of the signal.
UHF has a much greater ability to penetrate solid objects than VHF. The fact that we typically use portable two-way radios between waist and chest height means we do not benefit from our height advantage. It is the recommendation of Radiotronics to stick with VHF for fleets that only have vehicles and UHF for fleets that have both portable and vehicle radios.
Channel scanning allows the user to keep track of many channels simultaneously.
As a result, when a transmission is received, respond immediately. In most cases, the scan feature can be programmed to include or exclude channels from the scan process. Scanning fewer channels reduces the time it takes to complete the scan. If a transmission is detected, your radio will pause for a brief period, allowing the operator to respond to the transmission before continuing its circuit through the selected channels.
High priority channels
Channel scanning is an excellent choice in environments where updates are given frequently, allowing all team members to remain alert to changing conditions. You can include or exclude channels from the scan when programming your radio. This allows you to add channels with the highest priority, ensuring that your staff never misses a critical transmission.
Digital hybrid radios can scan either one or both digital and analogue channels simultaneously in most cases. This allows for a highly flexible scan facility, allowing the user to simultaneously monitor many channels in analogue and digital modes.
Oricom UHF028 Compact 5W UHF CB Radio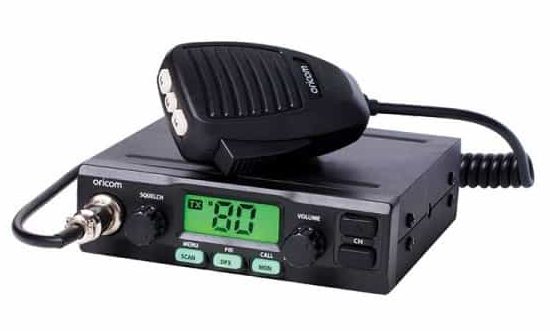 The Oricom UHF028 Compact 5W UHF CB Radio has a five-year warranty. Rugged design and a tiny size combine to make the UHF028 UHF CB Radio the appropriate communications choice for any 4WD, tractor, or construction truck.
The high-quality Oricom finish guarantees you can hear everything, and the heavy-duty microphone plug and 5-year warranty make this model a good value.
Features:
There are 80 channels in all, with 75 being voice channels.
It's small and portable.
Plug in a heavy-duty microphone.
CTCSS number 38.
The duplex range extender.
Priority scanning and open/instant/repeater scanning.
Volume, squelch, and rotary controls.
Increased Scanning Speed Overview:
Scanning
The radio SCAN function can scan for radioactivity across multiple channels. Scanning occurs at 40 channels per 7 seconds, a significant speed increase. Scanning will stop at that channel as soon as a signal is detected, and scanning will resume as soon as the track is free of interference.
Modes of Scanning
The radio has four modes: open scan, priority scan, instant scan, and repeat scan. During an available scan, press the SCAN button to switch to one of the four scan modes listed below, which are as follows:
Open Scan:
The Open Scan feature performs a search for activity on all CB channels. The scanning process stops when the channel is identified, allowing you to hear the signal. Scanning will continue automatically as soon as the channel has been free for 5 seconds without interruption.
Scan for Priorities:
Priority Scan not only scans the radio for activity but also inserts your Priority Channel into the scan sequence, allowing you to receive more information faster. Any signals received on your Priority Channel will take precedence over those obtained on the other channels unless you specify otherwise. Your Priority Channel will receive regular monitoring while scanning for missed calls.
Instantaneous Scanning:
When performing a Priority Scan, press the SCAN button to initiate an instant Scan. Only the three channels that receive programming into the instant channel buttons are scanned.
---
Oricom UHF390 5W CB Radio with Controller Speaker Mic
Features:
wattage: 5 (max TX power).
Controller with heavy-duty speaker microphone.
Rugged tiny Transceiver.
The LCD is large and easy to see.
For consistent audio levels, use Automatic Level Control (ALC).
A little about the Duplex function:
Your radio comes equipped with a repeater access feature that allows you to use a local repeater station (if available in your area). Repeaters are shared radio systems installed by interested parties (clubs, local businesses) and pick up transmissions on specific channels and re-transmit (or repeat). The received signal to another channel, allowing more people to hear it.
It is possible to configure the Repeater Access function used by local repeater stations. When activated, your radio will receive the Repeater on its designated channel. Thus, transmitting to the repeater channels 31 to 38 and 71 to 78. The factory default setting for all repeater channels comes set ("On").
---
Uniden UH5060 Mini Compact UHF with Remote Speaker Mic & Antenna
1-year warranty on the Uniden UH5060 Mini Compact UHF with Remote Speaker Mic and Antenna.
Important information – the expansion of UHF CB channels to 80 channels.
Increased channel capacity within the UHF CB Band is available to all users. The ACMA intends to convert most current wideband 40 channels to narrowband channel usage. You are allowing, for the addition of additional channels, up to 80 channels. A newly purchased narrowband radio will have more channels than your old one.
Please refer to the guidelines above and the channel chart for more information on the various media. You can also find a list of currently authorised channels on the ACMA website in Australia and the Medical Devices Authority website in New Zealand.
---
Uniden UH5000 Mini Compact UHF Radio
Five-year warranty on the Uniden UH5000 Mini Compact UHF Radio. The latest in UHF Communications from the world's leading wireless communication companies. The UH5000 has 80 channels, making it one of the first UHF mobile phones. It will be free to upgrade when the ACMA standard is released later this year.
The UH5000 is the pinnacle of compact UHF communications, and it's intended to withstand the harsh conditions of Australia and New Zealand, making it suitable for truck drivers, 4WD Drivers, and caravan drivers.
This unit is ideal for the professional who stays in touch with the outside world, thanks to Uniden's dependability and competence in UHF.
The Uniden UH5000 has the highest-quality components, engineering, and style you'd expect from Uniden.
The UH5000 is a 5W unit with a Flip LCD Display that allows huge icon display and reverse mounting. The built-in AVS circuitry provides an automatic volume stabiliser that detects narrowband and wideband transmission and automatically adjusts incoming audio levels to match. The UH5000 includes a Standard Microphone, Microphone Hanger, and Mounting Bracket, among other features.
---
Uniden UH8060S Mini UHF CB Mobile – 80 Channels
The UH9080's inbuilt BearCat engine transforms it into a UHF and Scanner in one, allowing you to simultaneously scan unencrypted analogue UHF Police/Fire/Ambulance frequencies, UHF CB channels, and user-programmable channels. Triple Watch, available scan, and group scan ensure consistent communication. Close call captures strong/close UHF signals using RF. Using the Instant Replay Function, you can also record and playback up to 1 minute of recent received signals.
The UH9080 also has a "Voice Enhancer," which is the most recent technology. Voice Enhancer provides a Natural Voice Enhancer by allowing you to choose from four different audio settings (Normal, Bass, Mid-Range, and High).
---
GME Brand 4 watt Din 27MHZ AM CB Radio. Part No TX2720
The TX2720 is a 4 Watt DIN size 26 MHz AM CB radio with various improvements, including increased transmitter and receiver performance. Channel Scanning, Priority channel, and back-lit Liquid Crystal Display (LCD) with the dimming feature are fully user-programmable. The radio's small size makes it simple to instal, and it comes with a flush mount kit for standard DIN mounting—1 Year Warranty on the GME 27MHz DIN Mount CB Radio.
Features:
Transmission Power of 4 Watts
Advanced Noise Limiting (NL) Circuitry Optimised Automatic Gain Control Channel Scanning with Memory Priority Channel with Dual Watch
---
GME 1W & 5W UHF CB Handheld Radio Twin Pack with Accessories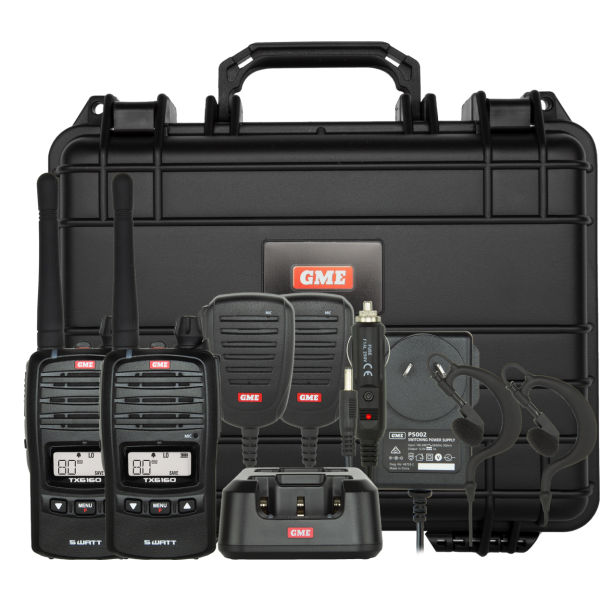 The GME 1W & 5W UHF CB Handheld Radio Twin Pack with Accessories and 5-Year Warranty. GME's TX6160TP 5 Watt UHF CB Handheld Pack is now available.
Up to 30 hours of battery life, VOX Hands-free mode, and a built-in LED torch. A full suite of professional-grade accessories and class-leading 5-watt transmission power are included. Furthermore, an IP67 ingress protection rating for outstanding performance and years of reliable use in the harshest Australian environments and dependable service in the harshest Australian environments.
Also, TX6160X is also a stand-alone device and a single unit with a complete set of professional-grade accessories (TX6160).
VOX OPTIONS
Using the VOX feature, you can hold conversations without using your hands. In response to your voice (or another nearby sound), the microphone automatically detects it. It transmits, removing the need to press the PTT button to activate the radio.
To configure the radio for VOX operation, follow these steps:
Step 1:  Press and hold the Menu key until the radio beeps three times.
Step 2. Briefly press the Menu key repeatedly until the letters 'VX' appear on the screen. The symbol will be flashing at all times.
Step 3. Use the keys to adjust the VOX sensitivity from 1 (minutes) to 3 (hours). 4. (max). A minimum setting requires a louder voice to activate the VOX. In contrast, a maximum setting requires a softer voice to activate the VOX.
Step 4. When 'off', VOX sensitivity completely turns off the VOX feature.
Step 5. To confirm and save your selection, press the PTT button on your keyboard.
When VOX is enabled, the VOX icon appears on the device's display. It is important to note that the radio may transmit when using the radio in a noisy environment with the VOX sensitivity set to the maximum. If this occurs, decrease the sensitivity setting.
---
GME 2W UHF CB Handheld Radio Twin Pack
The TX677 is a serious performer in a compact chassis, with a compact and lightweight mechanical construction, up to 14 hours of battery life, convenient USB charging, a rotary power/volume control for easy operation, and switchable transmission power (2/0.5 watt), and a user-programmed scan function.
Two TX677 radios, a compact double desktop charger, an AC adaptor, and a 12V DC vehicle charger are included in the TX677TP.
A single unit (TX677) and a quad pack (TX678) are also available (TX677QP).
Features:
Lightweight and compact
Battery Life: Up to 14 Hours USB Charging Rotary Power/Volume Control for Ease of Use
---
ORICOM vs. GME: A Comprehensive Radio Brand Comparison
Introduction: When it comes to communication in remote and challenging environments, two names stand out in the world of radios: ORICOM and GME. These brands have earned a reputation for delivering high-quality communication solutions for a wide range of applications, from off-roading adventures to maritime adventures. In this comprehensive review, we will delve into the strengths and weaknesses of both ORICOM and GME, evaluating their radio offerings, features, durability, and performance. By the end of this comparison, you'll have a clear understanding of which brand is the best fit for your specific needs.
ORICOM Radios: Unveiling Excellence
ORICOM is a brand synonymous with innovation and quality in the world of two-way radios. With a rich history dating back over 30 years, ORICOM has continually evolved its product line to meet the demands of modern adventurers, whether they're navigating the rugged Australian outback or simply staying connected during outdoor activities.
Radios Designed for Durability and Performance
ORICOM's commitment to quality is evident in their range of radios, which are designed to withstand the harshest conditions. The company offers a variety of handheld UHF CB radios, including the highly acclaimed UHF380 and UHF5500 models. These radios are known for their rugged construction, making them suitable for off-roading, camping, and outdoor exploration.
Transitioning to the performance aspect, ORICOM radios are renowned for their exceptional range and clarity. The use of advanced technology, such as Digital Signal Processing (DSP) and Automatic Level Control (ALC), ensures that communication remains crystal clear even in challenging environments. Whether you're deep in the wilderness or on a remote worksite, ORICOM radios have the power and reliability to keep you connected.
Feature-Packed Radios for Every Need
One of the standout features of ORICOM radios is their versatility. The brand offers a wide range of models to cater to different communication needs. From basic entry-level radios for recreational users to more advanced units with features like Dual Receive and SelCall for professionals, ORICOM has a radio for everyone.
One notable example of their innovation is the UHF5500. This model boasts a large, easy-to-read OLED display, a 2-watt speaker for crisp audio, and a heavy-duty die-cast metal chassis for durability. It's also equipped with a tri-color backlight, making it ideal for nighttime use.
User-Friendly Interface
ORICOM radios are known for their user-friendly interfaces. Even if you're not a radio expert, you can easily navigate the menus and access essential functions. This accessibility is crucial in emergency situations where every second counts.
Active Voice: Now, let's shift our focus to GME, another prominent player in the world of two-way radios. GME, short for GME Electrophone, is an Australian brand with a long history of providing communication solutions for various industries. Like ORICOM, GME has earned a reputation for quality and reliability.
Reliability in the Toughest Conditions
GME radios are designed to perform under the harshest conditions, making them a favorite among outdoor enthusiasts, miners, and maritime professionals. The brand offers a wide range of products, from compact handheld radios to fixed-mount units for vehicles and vessels.
One of the standout features of GME radios is their water and dust resistance. Many GME models, such as the TX6160X, are rated to IP67 standards, ensuring they can withstand immersion in water for up to 30 minutes without damage. This level of durability is essential for boaters, kayakers, and anyone exposed to wet environments.
Innovative Digital Capabilities GME has embraced digital technology in its radio offerings, providing users with enhanced features and capabilities. Digital radios offer improved audio quality, extended range, and secure communication options. GME's digital radios, such as the TX6160X and TX677, incorporate advanced features like Group Calling, Private Calling, and Text Messaging, making them ideal for group adventures or professional use.
Exceptional Battery Life
One of the common concerns with two-way radios is battery life. GME addresses this issue by equipping their radios with high-capacity lithium-ion batteries. These batteries offer extended usage time, ensuring that your communication won't be cut short during extended trips or emergencies. Additionally, GME radios often come with smart battery management features to maximize longevity.
Ergonomic Design for Comfort
GME radios are designed with user comfort in mind. Their ergonomic design and well-placed controls make them easy to handle, even during extended periods of use. Whether you're hiking, sailing, or working on a construction site, the comfort of your radio can impact your overall experience.
Conclusion: Making the Right Choice for You
Choosing between ORICOM and GME is not a one-size-fits-all decision. Both brands offer a wide range of radios with unique features and capabilities. To determine the best fit for your needs, consider the following factors:
For ORICOM:
If you prioritize durability and ruggedness.
If you need a versatile radio suitable for various activities.
If user-friendly interfaces are essential for your use case.
If you value a brand with a strong history of innovation.
For GME:
If you require water and dust resistance for marine or outdoor adventures.
If you prefer the advantages of digital technology.
If exceptional battery life is a priority.
If ergonomic design and comfort are crucial for your usage.
Ultimately, both ORICOM and GME have their strengths, and the right choice depends on your specific requirements and preferences.
FAQ: Frequently Asked Questions
Q. Are ORICOM and GME radios compatible with each other?
No, ORICOM and GME radios use different communication protocols, so they are not compatible with each other. It's essential to stick to the same brand and model for effective communication within a group.
Q. Do these radios require a license to operate?
In many countries, the use of UHF CB radios, like those offered by ORICOM and GME, does not require a license. However, it's essential to check the regulations in your specific region, as rules can vary.
Q. Can I use these radios for long-distance communication?
The range of these radios can vary depending on factors like terrain and interference. In general, they are suitable for short to medium-range communication. If you need long-distance communication, you may need to consider other options like satellite phones.
Q. What's the warranty on ORICOM and GME radios?
Both brands typically offer a warranty period for their radios, which can range from one to five years, depending on the model and region. It's advisable to check the specific warranty terms for the radio you intend to purchase.
Q. Can I use these radios in international travel?
Yes, you can use UHF CB radios like ORICOM and GME models in many countries, but it's essential to ensure that the frequencies and regulations comply with the region you're visiting. Some countries may have restrictions or different frequency bands for similar devices.
Q. Are there aQ. ny accessories available for these radios?
Yes, both ORICOM and GME offer a range of accessories for their radios, including additional batteries, chargers, antennas, and carry cases. These accessories can enhance the functionality and convenience of your radio.
In conclusion,
whether you choose ORICOM or GME, you're investing in a reputable brand known for its quality and reliability in the world of two-way radios. Consider your specific needs and preferences, and select the brand and model that aligns best with your communication requirements.
---
2. Oricom UHF390 5W CB Radio with Controller Speaker Mic
4. Uniden UH9080 Mini Compact UHF Radio
6. Uniden UH5060 Mini Compact UHF with Remote Speaker Mic & Antenna
8. ME 1W & 5W UHF CB Handheld Radio